Our Mission
Mt. Zion Preschool stands with the family in shaping lives through nurturing each child with a developmentally appropriate and Christ-centered education.
The Center offers a safe, loving, nurturing Christian environment in which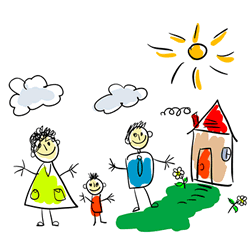 young children can develop to their fullest, God-given potential--spiritually, physically, emotionally, socially, intellectually, and creatively. Each child is a unique creation of God and should be treated with love and respect.
Our Goals
To help children establish themselves 'away from home.'
To help children learn to interact with their peers
To utilize the rapid learning years of three and four years old to their greatest potential.
To broaden children's growth experiences: mental, physical, spiritual, emotional and social.
To establish the foundation for formal education by forming an early, close home-school relationship which can provide vital guidance in the primary grades.
To develop in children positive attitudes toward themselves and their achievements.
To awaken in children the realization that 'to learn' is exciting and continuous.
To guide children to a better understanding and a more extensive relationship with Jesus Christ as their Savior.
To guide children to a better understanding and a more extensive relationship with adults.
To develop in children an understanding of who they are and how to relate to others through Christian obedience in their lives.
Our Program
A good early childhood curriculum adopts self-directed learning as its objective. This method assumes that the most effective learning is that which grows out of the child's own motivation. With this type of curriculum the Mt. Zion teacher will:
provide the child with choices.
offer the child opportunities for experiencing and understanding their environment through manipulation, through play, through exploration of materials and ideas at the child's own rate, and
interact with the child to reinforce and extend his choices and discoveries.
To enable our preschool to assist a child in growing to his or her potential, a very carefully planned and supervised program is presented to the child. We include various activities of play, religion, movement, math, science, music, social studies, language arts, and creative arts. We invite and encourage volunteers to support our ECC program.
Mt. Zion Preschool is in harmony with the Colorado Department of Human Services and is licensed under their authority and supervision. Mt. Zion admits children of any race, color, religion, gender,

sexual orientation, national and ethnic origin to all the rights privileges, programs and activities generally accorded or made available to children at the Early Childhood Center. We do not discriminate on the basis of race, color, religion, gender, sexual orientation, national or ethnic origin in administration of our educational policies, admissions policies, scholarships and other center-administered programs.
Ages 1 through Pre-Kindergarten
Mt. Zion's Preschool provides a safe, loving atmosphere where children grow through developmentally appropriate activities and lessons. Founded in 1986, it offers an environment rich in opportunities that develop a well rounded child.
Parents may choose part time or full time care, two to five days a week. The center is open 7:00 a.m. to 5:30 p.m.
Classes are divided as follows:
| Class | Age | Class Size |
| --- | --- | --- |
| Toddler | 1 and walking | 10 children |
| Preschool 1 | 2-1/2 to 3 | 8 children |
| Preschool 2 | 3 to 4 | 10 children |
| Pre-Kindergarten | 4 by Sept. 30 | 12 children |