A few words about our program . . .
Mt. Zion Lutheran Church offers regular Sunday morning worship and Bible

study to members of the congregation and community. In addition, there are seasonal worship services, special Bible studies, fellowship and service opportunties for all members of the family. Consultation with the pastor is available by appointment. See the church section for more information. Membership in the congregation is open to all by transfer and through attendance at special classes.
As an outreach and service to the community, Mt. Zion offers classes and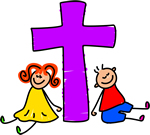 child care for young children through its Early Childhood Center. Full day child care is available Monday through Friday during both the school year and the summer.
Mt. Zion Lutheran School offers a strong Christian school program through the second grade. The school provides personalized instruction through a well-rounded curriculum. The school is open to children of all backgrounds.