Toddler Program
The best of CHILD CARE
Mt. Zion's toddler program is built around the needs of each child. Teacher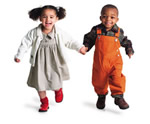 to child ratios are low to provide for individual attention. Children daily experience planned activities and open-ended experiences for individual growth and development. Children explore their world through music, large motor play, sensory exploration, language, and small group events.
The toddler program is for children ages 1 and walking independently to age 2-1/2.
Daily Schedule
7:00 Children begin arriving: Welcome and group integration activities Goodbye Mom/ Dad

8:30 - 10:00 Prepared activities and children's choice (free-play)
Discovery, sensory experiences, music and movement, etc.


10:00 Snack


10:15 Outside Time and/or planned activities


11:15 – 12:00 Lunch Preparation and lunch Time


12:00 Children Choose their activities - Quiet time before nap
Read books, cuddles, sing soft songs


12:30 - 3:00 Nap and post nap activities: reading, storytelling, and manipulatives


3:00 - 3:30 Snack


3:30 - 4:30 Children play outside or inside: free choice or teacher directed


4:30- 6:00 Day end preparation Children get ready for Mom and Dad

Toddler Fee Schedule

2013-14 School Year
(download pdf version)

FEES – Annual
Registration - $50.00 ( non-refundable)

Tuition – Monthly

A) Half Day : Morning Session 7:00 am-12:30 pm OR
Afternoon Session 12:30 pm-6:00 pm

2 days (T/Th)wk - $350
3 days (M/W/F)wk - $455
4 days week - $540
5 days week - $605

B) Full Day – 7:00 am – 6:00 pm

1 day (M or F) - $350
2 days(T/Th)wk - $595
3 days(M/W/F)wk/$895
4 days week - $975
5 day week - $1,200
Definitions:

Fees are one time (yearly) expenses.
ChildcareTuition is a monthly expense.
School year: Mt. Zion Lutheran Preschool is a year round childcare center. Mt. Zion's "school year" begins annually in August.
Deductions:

There is a 10% discount on your monthly childcare tuition for the first child of active members of Mt. Zion Lutheran Church.
If you have more than one child attending Mt. Zion concurrently, you will receive a 20% discount on your monthly childcare tuition for the second, third, fourth child (etc.).
If you are an employee of the University of Colorado, IBM, Ball Corporation, Boulder Community Hospital, or Covidien (Valley Lab), there is a discount of 10% on your monthly childcare tuition.
If you are a member of the Military, Fire Department or Police Department there is a 20% discount on your monthly childcare tuition.
Multiple discounts cannot be applied (except in the event of 2 or more children)
For every family you refer to Mt. Zion, your family will be given $25 per month off of your monthly childcare tuition for as long as the referred family is current on their childcare tuition for up to one year.
Financial aid is available to families who qualify. Application forms are available upon request.
Late Pickup – Because of the small size of our toddler class it is imperative that you pick up your child(ren) at your designated time. If you have an emergency and must be late, please call and inform us so that we can make sure we have enough staff (dictated by State law) to cover your child. The time associated with Late pick will be billed at the drop in charge of $10 an hour.
After 6:00 pm late fees are: 1-5 minutes $10; 5-10 minutes $20; 10-15 minutes $30; etc.
Childcare Tuition Payments: The tuition payments for Mt. Zion Preschool are due on the first day of the month. A $25 late fee is added to payments received after the 10th of the month. A $30 fee will be assessed for any returned checks.
School Breaks: There will be days when the childcare center is closed (i.e. Christmas, Easter, holidays, etc., please refer to calendar) and no childcare will be offered. Additionally, if you know in advance days that your child will not be attending (vacations, sickness, etc.), please keep us informed.
MAKE-UP DAY CLARIFICATION
The policy for Make-up days is as follows: Your child is available for a makeup day, at no charge, if the school is closed for a holiday or a weather related school closure on your child's scheduled day. This policy does not extend to days that are missed due to illness, personal reasons or vacations. If you wish to attend another day, the drop in fee is $10 per hour. Mt. Zion is happy to help parents out whenever we can. However, drop in is determined by availability, and must be approved by Mrs. Wu, Director, and/or your child's teacher prior to the day requested. Class size is dictated by State of Colorado regulations regarding child/teacher ratios.
Drop-in Care & Fees: The standard drop-in care fee will be $10 per hour. If your child is not picked up by their scheduled departure time, or arrives before 8:00 am, you will be charged the drop-in fee. This fee is a flat rate that will be charged whether you use 15 minutes or one hour. If your child attends part time and you require an additional day/hours, please call in advance and arrangements will be made. We understand that emergencies do occur and will gladly take care of your child, however, please let us know as soon as possible.

Summer Attendance: In order to staff effectively for the summer, all families will receive a form requesting information about summer attendance. If your child is not attending during the summer, and you wish to attend Mt. Zion for the following "school year", you must fill out a registration form, along with a registration fee, for the fall in order for us to reserve your child's space.