We share . . .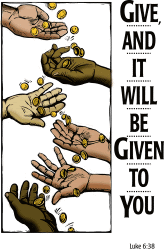 Mt. Zion is a place where good things are shared with others. Here are just a few examples as gleaned from recent editions of the The Herald, the monthly church newsletter.
• Mt. Zion school students support the work of Servant's Heart Lutheran School in Guatemala through their chapel offerings.
• Mt. Zion members have participated in "Equipping to Share" workshops designed to help them speak the Gospel to people with whom they live and work.
• Mt. Zion members gave Christmas gifts to residents of a nearby mental health center.
• Recent Bible studies focused on the role of stewardship in the life of Christians.
• Parents and school staff members sponsored a potluck supper for members of the congregation who don't have a direct connections with the school.
• Members are encouraged to save soup can labels to benefit the Navajo Mission in Arizona.
The most precious gift which is shared freely is the Good News of salvation in Jesus Christ.