We serve . . .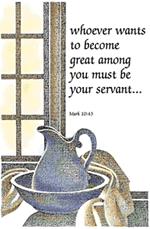 Mt. Zion offers many opportunities for service. Some are related to the governance of the congregation including service on the Board of Directors and related committees. Other opportunities are connected to service organizations such as the Lutheran Women's Missionary League (LWML).
Some serve in the worship life of the congregation, using their voice or musical training to enhance the worship service. Others serve as ushers, greeters, acolytes and Communion assistants.
The church facilities require upkeep and maintenance. In order to practice good stewardship while also utilizing skills and talents of members, the church counts on volunteers to mow grass, pull weeds and keep facilities maintained.
School families have many opportunities to become involved in the program as classroom aides, library workers, and committee members. Some specialize in fundraising and promotion which helps keep tuition affordable for those who wish to enroll their children. Their involvement actually helps their children to be more successful.
Service is also directed outside of the congregation to the community. Mt. Zion's facilities have been used by community groups. Mt. Zion members have served community agencies. Members also serve the greater Church in various capacities as members of boards and committees.